AFFORDABLE

PRICES

FRIENDLY

& TIDY

WORK

GUARANTEED

LATEST

TECHNOLOGY

RENEW YOUR FOREST HILL FLOORS
What lies beneath...?
Those grey and shabby wooden floors ..?
Or those others covered in paint, dirty lacquer, scratches, marks and gouges?
A beautiful new surface you will show to guests and customers with pride.
All quite possible after sanding and resealing from the specialists.
Call on Floor Sanding Forest Hill - for floor repair and restoration.
With twenty years experience of restoring hundreds of floors, we can adapt to your domestic and business requirements. Closure and inconvenience will be minimal as we can work flexibly - at weekends or even overnight if required.
And with the efficient collection of our cylinder sanding machines, the job is virtually dust free.
Wherever your floor - in the home, office, bar, school, shop, gallery or restaurant - we'll do whatever is required to bring it back to life:



 Wood broken or split? We'll repair or replace damaged boards 




or blocks.   




 Old layers of sealant and paint? Allow us to sand them away to 
smooth bare wood.   




 A change of colour? Staining will produce a fresh look to match 
​your decor - as in modern grey or Scandinavian white.   




The final protection comes from your choice of lacquer, hard wax 
​or natural oil.   

All completed to the highest level of workmanship and with top quality materials. They last longer, look better and give the best long term value



.

So whatever your kind of floor: hardwood or engineered boards; parquet or herringbone blocks.



Call us today for your free assessment - and the best advice.
Floors Sanding Forest Hill - revealing the beauty of your floors SE23.
Forest, hill, canal, railway...
The name derives from the location of the remnants of the Great North Wood. Indeed, the area was simply known as 'the forest' until as late as 1797. This sylvan purity was upset by the building of the Croydon Canal in 1807- from New Cross to Croydon. It was perhaps not the most practical of undertakings to build a commercial waterway over the highest hill in the district - no wonder it required twenty five locks. The Croydon and London railway purchased the canal in 1836 and laid its route along the route of the waterway.
This line had the honour of being home to the first signal box in the world, with the station at Dartmouth Arms becoming the present Forest Hill.
As we can be proud of our railway heritage, so let us continue the solid tradition of the natural wooden floor.
For straightforward workmanship and restoration - contact Floor Sanding Forest Hill today!
Latest News, Recommended Articles & Tips
Are chocolate floors the right choice for you?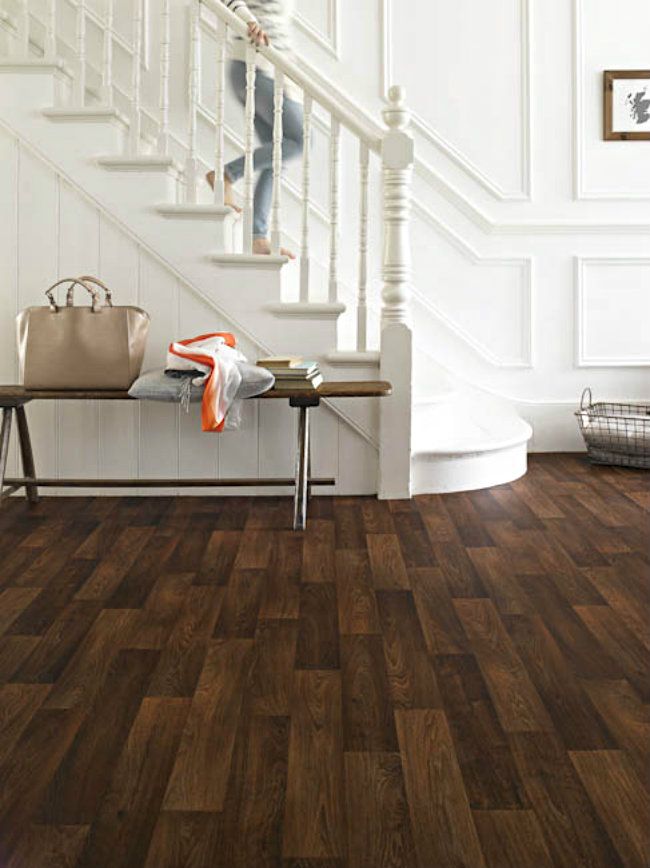 If you love dark and decadent luxury, then chocolate brown floors could be the perfect choice for your home. They certainly have a sense of drama that pale floors can't match, and add a richness and depth to your interiors that is synonymous with designer style.

The benefits of chocolate floors

A dark chocolate brown wood stain will really bring out the grain in your floorboards, while naturally dark woods score highly on the Janka Hardness Scale - for example, Brazilian Walnut scores 3680 as opposed to White Oak at just 1360 - ensuring that they can stand up to even the most high-traffic environment. Chocolate floors can also add warmth to sometimes sterile modern design schemes, and absorb light for a sense of depth and formal beauty.

When to think twice

If you share a home with muddy dogs and sports-mad children, then a dark wood floor may not be the choice for you as every speck of dust and dirt seems to be magnified a hundred times. If you opt for natural dark woods, be aware that you'll pay more for their durability and hardness, although they're cost-effective in the long run as you'll need to invest in floor sanding and finishing less often.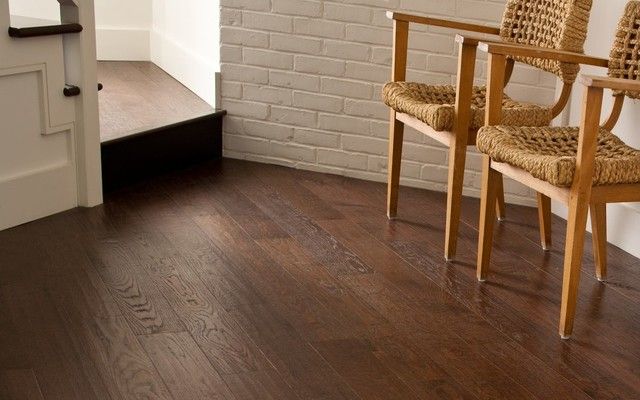 Hardwood or stain?

Most of the darker hardwoods are exotic species like Black Walnut and Wenge, which has a particularly deep cocoa colour. They are expensive but will stand up to years of use and only need a polyurethane finish to keep them looking good. You can achieve the effect more cheaply by installing a lighter wood floor and finishing with an ebony, mahogany or Jacobean stain - try blending several together for a bespoke effect. Though staining is more cost-effective, you may prefer to have your floors refinished by a professional who understands that different woods absorb stain at different rates, and who will be able to achieve the uniform look you want.

Prefinished or site finished?

Prefinished floors are the smart choice if you want to get your floors installed as quickly as possible. However, for a bespoke look with a chocolate colour that's finished to your specifications, floor sanding and finishing on-site will ensure that your stunning chocolate floor is absolutely unique.
Before & After
Floor Sanding Forest Hill